Transforming Grace Conference
TREM Calgary is 5!
To celebrate our anniversary we are hosting a day of praise and worship with powerful Music ministers like Princess Ann Inyang, Scholastica, Ayo Olajide of Worship His Majesty, Pastor Lanle Ajayi, Angelic Voices Choir and many more , there will be food and drinks with free parking.
This is a FREE event
It's going to be Glorious!
Date: 1st of March 2020 at 1:00 PM prompt
The address is:
10307 Eamon Rd NW
Calgary, AB T3G 5H2
We will be gathering together with other children of God in quality praise and worship of the true and living God, equipped with the Word of God for growth and fellowship with one another in covenant relationship and released to make a formidable impact in our world for the Kingdom.
Some of the performing Artists are: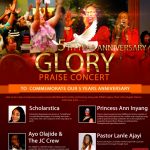 Ayo Olajide
Ayo Olajide is a talented singer, composer, and songwriter who has been actively involved in music ministry in Canada. He is the host of Worship His Majesty (WHM) musical concert
Princess Anne
Inyang Princess Anne Inyang has been fulfilling her divine mandate of making God's praise glorious.She's written many inspiring songs used for praise & worship worldwide. She is the originator of songs like Akanam Nkwe, Things are Getting better, Floodgates etc.
Scholastica
Scholastica Makanjuola also known as "ScholaPraise" is a spirit filled Worshipper. A recording artist and a song writer. She is the composer of the song "glory to glory". The Canada based Gospel Artist is known for her spirit filled songs, as well as her unique style of delivery.
Pastor Lanle
Ajayi Pastor Lanle Ajayi is a minister of the Gospel with a passion for passing her message through music
TREM Calgary Children's Choir
TREM Calgary Children's Choir